Go First-Class in the Mercedes-Benz E-Class
If you have a taste for luxury in your vehicle, you want to choose a brand that rests on a solid foundation of excellence. Mercedes-Benz is that brand. And while you truly can't go wrong with any one of this automaker's incredible options, the E-Class is well worth a closer look because of its variety of options and exquisite offerings.
Right from the start, you'll love the E-Class for its refined and elegant exterior. It embodies the essence of style and quality, and no matter which body style you choose, E-Class vehicles will earn longing second glances on the highways and byways of Sycamore and DeKalb, IL, and surrounding areas.
Those body styles set the E-Class apart from other luxury vehicles, offering drivers a choice among sedan, coupe, convertible, and wagon variations so that there is a style for every need and desire.
All E-Class models hit the right notes in regards to indulgent comfort, state-of-the-art technology, remarkable performance, and unbeatable ride quality.
It's one thing to read about all the ways the Mercedes-Benz E-Class reigns supreme, but it's quite another to experience it for yourself. That's what Mercedes-Benz of Sycamore invites you to do when you visit our dealership for a test drive of your favorite E-Class vehicles. Not only do we have a carefully selected inventory of the new Mercedes-Benz models you love, we also have a team of associates who are experts when it comes to luxury vehicles in general and Mercedes-Benz models in particular. They will be happy to answer your questions, help you narrow down your options, and introduce you to our compelling specials that can make your dream car a luxurious reality.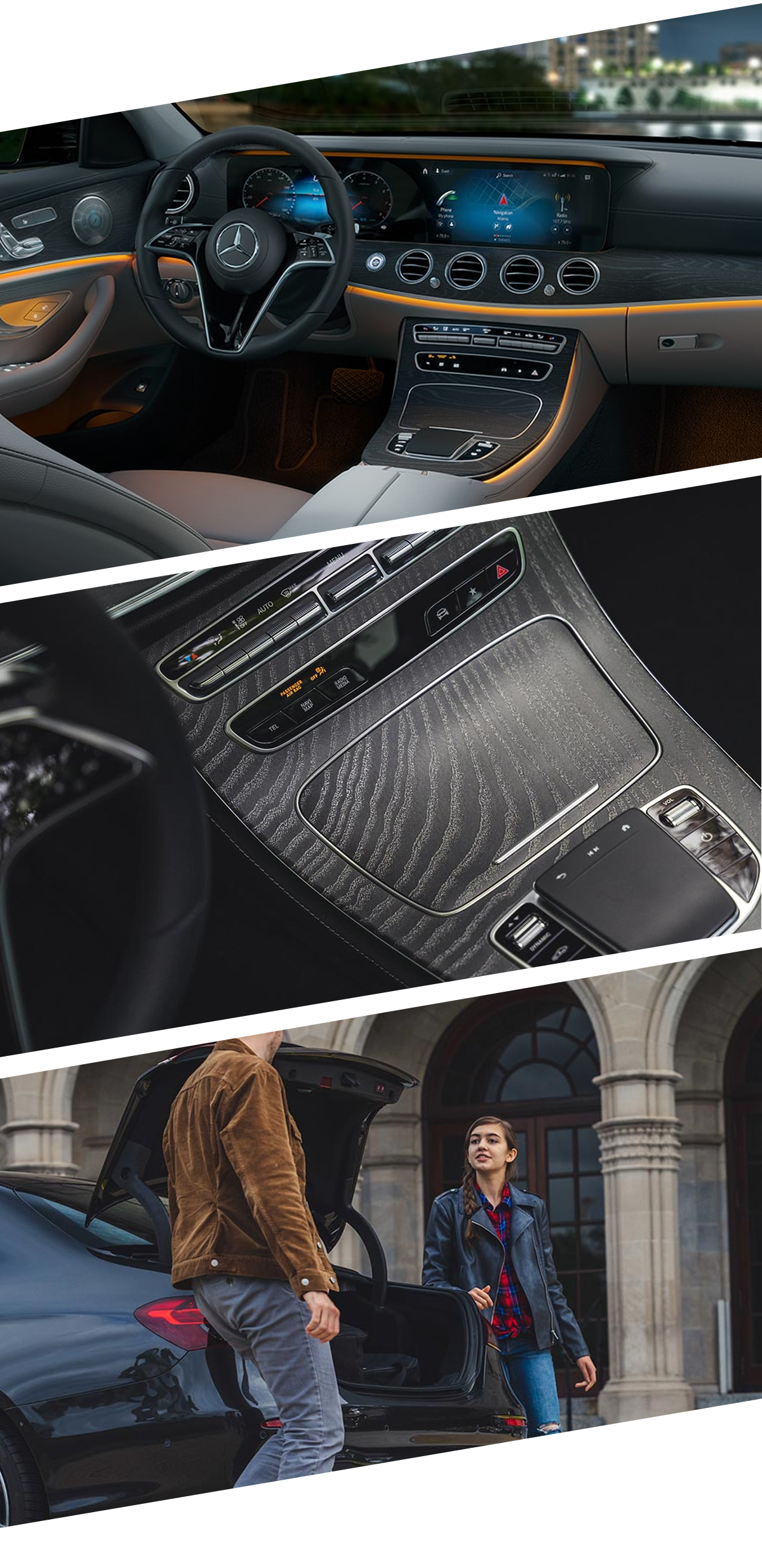 What's New in the 2021 Mercedes-Benz E-Class?
If you are interested in the 2021 E-Class, you'll be pleased to know that Mercedes-Benz has made some for the 2021 model year. From the front headlamps to the rear design, the 2021 E-Class has received a facelift for the model year. While the exterior has a new look that is pleasing to the eyes, updates inside the cabin will be appreciated by your other senses, including a new steering wheel and the MBUX infotainment system that replaced COMAND®. Drivers will also enjoy the new technology features that assist with driving day-to-day throughout the Sycamore area.
Mercedes-Benz E-Class History Highlights
First introduced into the Mercedes-Benz lineup in 1993, the E-Class was another feather in the cap of the luxury brand. In 1998, the factory added a new wagon body style to the lineup. In 2001, the ultra-premium AMG® trim debuted.
The model years that followed brought about a number of alterations and enhancements, including ever-updated technology and safety features, exterior styling upgrades, and trim level tweaks.
In 2011, the E-Class saw the addition of a convertible variation, and in 2013, a hybrid model came on board.
Throughout all of its changes and evolutions, E-Class vehicles have maintained an unwavering focus on offering unparalleled luxury and enough variety to please luxury car shoppers with different styles and driving needs.
Why Shop for Your E-Class at Mercedes-Benz of Sycamore?
Luxury vehicle shoppers in and around St. Charles, DeKalb, and Elburn, IL, owe it to themselves to visit Mercedes-Benz of Sycamore and browse our selection of amazing new models. In addition to the E-Class, we have all of the brand's other esteemed vehicles in stock as well – so whether you're shopping for a roomy sedan, a high-performance coupe, or a family-friendly, high-class SUV, you will find many worthy options at our dealership.
We look forward to helping you find your perfect vision of luxury and driving it home today. Contact us to schedule a test drive or simply stop by our store and speak with one of our friendly and knowledgeable associates today.