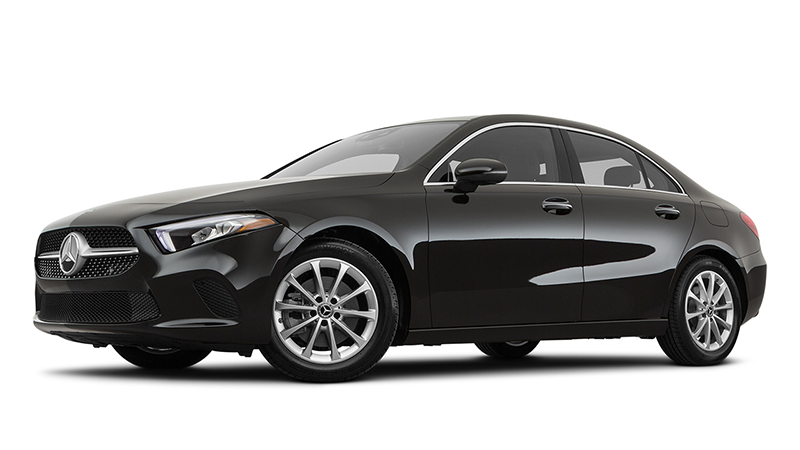 Mercedes-Benz A-Class: Sporty and Sophisticated
While small sedans are often utilitarian in nature, Mercedes-Benz has proven that a slim frame can deliver luxury in abundance. The A-Class provides the perfect combination of performance and safety with first-class accommodations.
Mercedes-Benz understands that drivers shouldn't compromise capability for comfort, so they've endowed the A-Class with a robust powertrain, adroit handling, and nimble suspension. The interior design is both futuristic and polished with a host of intuitive technology tools for driver assistance and amusement. You and your passengers will ride in unequaled style and comfort, all protected by Mercedes-Benz's premium safety systems.
While it offers premium luxury as only Mercedes-Benz can deliver, the A-Class comes with a refreshingly understated price tag. If you'd like to experience the latest in the Mercedes-Benz family of luxury cars, we invite you to come see the A-Class at Mercedes-Benz of Sycamore.
What's New in the 2019 Mercedes-Benz A-Class?
Absolutely everything about the A-Class is brand new! The fresh and stylish luxury small sedan bundles all the high-end features drivers expect from the maker, and delivers it with an exhilarating turbocharged engine.
The refined interior is appointed with premium materials, and the seating for five remains soft yet supportive even over long rides. While passengers don't always expect much legroom within a small car, the A-Class provides space in abundance. Families may make use of the two full sets of car seat connections.
The instrument cluster is primarily digital, and drivers may choose from a myriad of convenient infotainment amenities. Available interior features include a high-resolution touchscreen, smartphone connectivity with Android Auto and Apple CarPlay, Wi-Fi hot spot, dual-zone automatic climate control, panoramic roof, and more.
The A-Class also comes with the brand-new Mercedes-Benz User Experience (MBUX) infotainment system, which may be navigated via voice command, touchpad, or touchscreen.
Available safety features include automatic emergency braking, lane departure warning, driver awareness detection, forward collision warning, blind spot monitoring, and more.
Under the hood, the A-Class runs on a 188-horsepower turbocharged, 2.0-liter 4-cylinder paired with a seven-speed automatic dual-clutch transmission. While the automatic shifting is seamless, drivers may also utilize the car's paddle shifters. The car glides remarkably around corners and maintains its poise even on windy roads. The weighted steering wheel ensures responsive handling, and Mercedes-Benz offers two suspension arrangements for different driver preferences.
History of the Mercedes-Benz A-Class
While other vehicles have borne the A-Class title in the past, they were radically different than the sleek and intelligent compact on the road today. Mercedes-Benz released the A 160 in 1997 as their first foray into the compact segment. In the years that followed, Mercedes-Benz would experiment extensively with body style, features, and engine capability, releasing increasingly advanced and noticeably dissimilar vehicles within the class.
The second generation appeared in 2004, sporting a leaner profile and plethora of new safety features. One variant came with a hydrogen fuel cell with an electric motor capable of driving 99 miles on a charge. A 2008 refresh brought updated exterior styling and an active park assist feature that aided the driver with tricky parallel parking situations. To celebrate the launch of the 2012 model, Mercedes-Benz arranged the "A Rock" concert series across Europe during the summer.
The all-new 2019 A-Class draws from the success of other Mercedes-Benz models, like the advanced active safety features of the S-Class.
Why Buy the A-Class at Mercedes-Benz of Sycamore?
At Mercedes-Benz of Sycamore, customer service is our top priority. We'll do our very best to make your car-shopping experience simple and stress-free, and our trained team of automotive specialists is standing by to walk with you through the entire process.
Feel free to browse our lineup online or visit our dealership to take the new A-Class for a test drive. When it's time to make your decision, you can also take advantage of our financing plans and special offers.